If you are feeling like upgrading your recording options, a cold shoe mount offers more mounting choices. If you are new to it, this guide will help you get to know it. Here we include some common things, including definition, types, uses and the difference between cold shoe and hot shoe.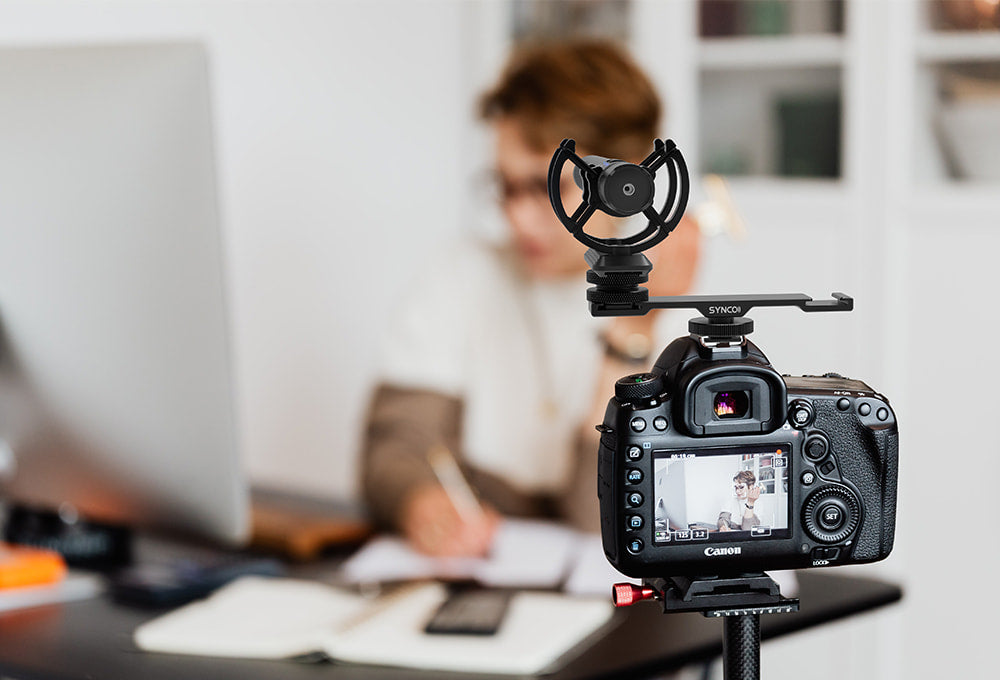 What is a cold shoe mount?
Firstly, let's see the definition. It is a bracket on the top of a mounting plate. You can use the cold shoe mount for gimbal, tripod and suchlike. It is called "cold" shoe because of the lack of power of its own. So the extra devices connect to the camera with cables. There are many mounting devices options, ranging from external microphones to another mini camera like Gopro.
Types
There are types of cold shoe mounts to choose from for shooting.
Normal cold shoe mount
The most commonly seen cold shoe camera mount features a bracket on top and a bottom thread mount. It is incredibly simple to use. Just screw it to a mounting device like tripod, install the microphone and you are ready to go. It is usually light and compact but plays a role in keeping your mic in place.
Cold shoe with electrical contact
There is also cold shoe mount that can have electrical communication with camera though it lacks power in most cases. Such kind features internal wiring but is still "cold" since it can't trigger the devices by itself. It is usually regarded as receptacle of a cord which enables electricity to be sent to your device.
However, it is not so common these days since there are professional cables offering more reliable connection.
Cold shoe extension
As its name suggests, cold shoe mount extension offers brackets constructed from metal or plastic that is capable of extending to other sides of the camera. So you can mount your microphone, flash and suchlike flexibly.
In the very beginning, it is designed to offer "off-camera" flash but still remains attaching to the camera. As we all know, lighting that aims directly to the subject may cause harsh shadow so the video output is likely to suffer. With the bracket extending to the left or right, you can get flattering frame without using a separate light stand.
Until now, there are different kinds of designs. The most basic one is in the L shape. What's more, some options are equipped with a adjustable arms so you can mount your microphone on it and adjust it to a perfect angle to capture clear audio. Double cold shoe mount is also available. This is really useful if you are taking two-person recording. You can mount two microphones in a neat way and start the recording.
Uses
A versatile cold shoe mount is able to play a role in many scenarios. And we will discuss in two aspects, off-camera and on-camera.
Off-Camera uses
A microphone cold shoe mount can offer off-camera microphone placing. You may come across the situation when you are away from the camera and you want to capture clear sounds with a hidden mic. If you have a cold shoe mount, things go easy. Just use the cold shoe mount for tripod and mount your microphone on it, and then you can start recording. If you want to light up your video, it is also feasible to mount a video light.
On-Camera uses
Although there is no electronic connection in cold shoe, it is still functional when it is used on camera.
Generally, it extends the equipment options of recording. The latest DSLR or camera not only is good at photography but also does well in shooting videos. A cold shoe mic mount makes it feasible to attach microphones and lighting to camera and allows you to achieve recording from different angles. For example, you can use the cold shoe mount for shotgun mic. Shotgun mic like the SYNCO D30 usually includes a shock mount in the package. Just install the shock mount to the cold shoe and place the mic on it, and it can be ready to go.
In addition, it is helpful in movable recording. If you are having outdoor shooting like vlogs, it can be difficult to keep every gear in good arrangement while moving. A cold shoe extension offers enough space to place your microphone, video light and so on neatly so you can capture every moment without much effort.
Want to know more about recording volgs? See How to get better audio with microphone for vlogging?
Cold shoe mount vs hot shoe mount: what's the difference?
The largest difference between them is that hot shoe has electrical contacts while cold shoe has no. The word "hot" and "cold" here refer to the fact that there is or isn't power of the shoe itself.
To go deeper, hot shoe locates on the highest point of camera or is set beside the pop-up flash. You can use it to connect different devices like flash, GPS device, etc. without cable connection. It frees your hand and helps a lot when you don't want to bring stand for your devices.
Overall, both hot shoe and cold shoe mount are significant to offer more possibility to your shooting.