These days, the best wireless microphones can sound even better than wired systems, and they are more reliable than ever. They play a critical role in modern productions, from concerts to houses of worship and to business presentations. Journalists, vloggers, videographers, and fitness instructors all depend on wireless microphones for daily work. Hundreds of wireless channels are managed to achieve coordination in tours, shows, and sports events.

The benefits of microphone wireless are very significant: ease of movement, less cable clutter and a low profile. However there are many options out there, from simple analog systems to complex, multi-channel digital operations. Choosing the right and the best wireless microphone for everyday use seems to be very important.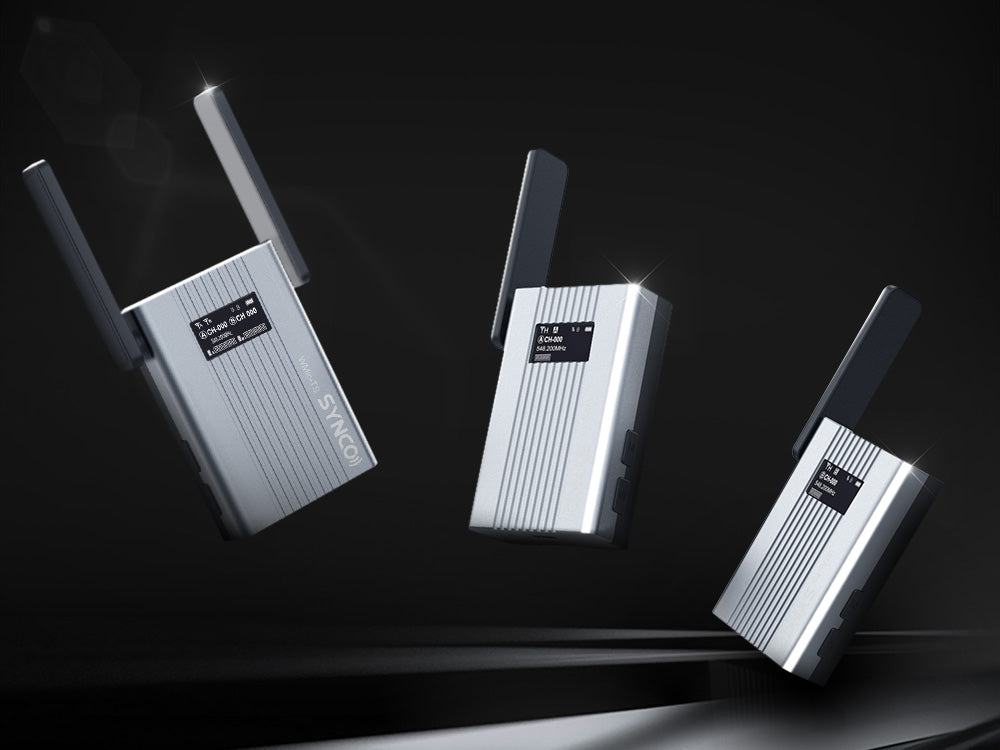 Sound quality - analog vs. digital
When choosing a microphone, sound quality may be a top concern. This is also a key reason for us to look at digital wireless microphone systems over analog wireless systems. Analog wireless systems use a compander to squeeze the entire dynamic range of a voice or instrument into the narrow frequency allocation provided for wireless mic use, while digital systems can simply transmit a consistent digital signal that provides full dynamic range without companding and provide a more natural sound.

Additional reasons to choose digital wireless microphones include a much longer battery life which can be up to 40% longer and a high spectral efficiency which allow you to pack more units into a given frequency range. See Why go digital: analog vs. digital wireless microphone for further info.

Go and buy at Moman PhotoGears Store
Digital wireless microphone frequency - VHF vs. UHF vs. 2.4 GHz
VHF (= very high frequency) ranges from 49 MHz to 216 MHz and consists of a low band (49-108 MHz) and a high band (169-216 MHz). The former is filled with cordless telephones, radio-controlled toys, television channels, and "assistive listening" wireless headset microphone systems, while the latter is widely used for professional applications such as broadcast and commercial film/video production.

UHF (= ultra-high frequency, 400 MHz and up) also contains several bands that are available for wireless microphone systems. The greater bandwidth permits great audio dynamic range. Audio equipment is available at a wide range of prices and nearly all frequency-agile, diversity systems. Very high quality audio can be achieved as well as a large number of simultaneous systems.

You can also find a number of wireless microphones that operate in the 2.4GHz band. Be aware that the 2.4GHz frequency band is the same as your computer Wi-Fi and is potentially subject to interference from microwave ovens. Their operating range is also much shorter. Use a wireless lavalier microphone only in smaller rooms with no obstructions between the transmitter and receiver antennas.

Nowadays, UHF and the new-generation digital 2.4GHz are two typical types of wireless signal transmission that are applied by many microphone manufacturers to the best wireless microphone manufacturing.  

When to choose UHF?
The UHF range has been the standard for many years and typically gives the strongest and best performance. Its larger frequency range, smaller antennas, and dramatic radio circuitry advances are combined to enable it to dominate the interest of most wireless microphone manufacturers and users.

In recent years, the FCC has placed restrictions on the frequencies of operation for wireless microphones lavalier. In response, UHF wireless microphones have become considerably more efficient in bandwidth use and continue to offer large numbers of simultaneous systems at reasonable cost. For that reason, the UHF band is expected to remain the primary range for professional wireless microphones.

However, all this does not mean that wireless microphone UHF is always a better choice than VHF or 2.4 GHz wireless microphone sets. Your needs and your budget still take precedence. Please keep in mind that the best wireless microphones should be the ones most suitable for you.

Choose UHF if:
You travel and perform in several different cities

You need to use more than 4 wireless microphone systems at the same time

You play in a crowded radio environments where there is a strong presence of other radio activities all around your location
In such cases, SYNCO WMic-TS, a 1-trigger-2 UHF wireless microphone system could be a choice. It is the best combination of long transmission distance (= 150m LOS) and clear frequencies (525-554.75 MHz). A total of 12 such microphone wireless systems are allowed to work at the same time in the same location.
Key specifications of SYNCO multi channel wireless microphone system
Channel

60

Frequency

525.000MHz~539.750MHz for Group A

540.000MHz~554.750MHz for Group B

Working distance

150m (LOS)

80m (NLOS)

Latency

<20ms

Battery

1300mAh rechargeable Li-ion battery

Working time

8.5h

Charging time

3h
Package list: The SYNCO best budget wireless microphone contains 1 receiver and 2 transmitters, 1 TRS camera cable, 1 TRRS phone cable, 2 external lavaliers (with 2 wind muffs), 1 3-in-1 quick charger, and 1 carrying bag.

SYNCO takes the lead to offer the 180° foldable antennas, a move intended to remove your worry about destroying the small antennas when putting the kit into your pocket or bag. We also provide high/low output power to better control the signal strength and battery power of rechargeable wireless microphones. It's the best wireless microphone to record dialogue, interviews, and speech to your video rig. Buy it at our official Amazon store OR from our dealership!